Den Day in aid of save the children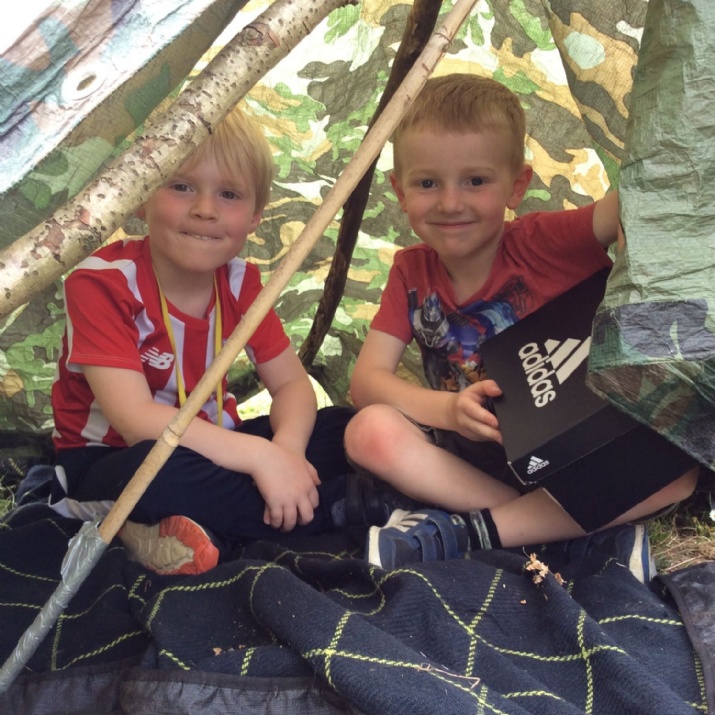 In what is fast becoming a regular feature in the Castle Acre Academy calendar, we once again took part in Den Day in aid of Save the Children Fund. In an added twist this year we also had a sponsored sleepover at school to raise even more money for The Natural Disaster Fund.
In June, the whole school spent time learning about the purpose of Den Day, planning dens and making and icing cakes ready to eat in the afternoon. All that was great fun in itself, but then came the really exciting part...making dens!
Children, parents and staff had been collecting the sort of materials to use that those in an emergency situation might be able to find. For example, wood, branches and other natural bits and pieces, tarpaulins, cardboard boxes, tubes, plastic sheeting, blankets and anything else that came to hand.
In groups, all the children designed and built their own dens, sharing the resources and helping one another. Soon, all across the field and in Rowan's outside area dens were springing up, modified, checked, changed and completed. Everyone admired each other's handiwork with good ideas shared and help offered to those with construction problems. Budding architects were much in evidence as well as caring humanitarian experts.
Once finished, fun as it was, many children spent time sitting in their dens pondering what it must be like to actually live there all the time without looking forward to a comfy bed that night (of course, some weren't going back to that comfy bed but staying for a sleepover on the hall floor). To end the school day, those iced cakes were very much enjoyed!
The sleepover, with 28 children and various adults, was also a great success. To pass the time there was a football tournament, bucket rounders, a film to watch and hide and seek in the dark. Then it was bunking down on the hall floor with sleeping bags, but no washing kits or toothbrushes (where would people made homeless by devastating floods get hold of them?) for a few hours sleep before returning home.
The total amount of money raised was £586.29 which is fantastic! Thank you to all those who donated in whatever form.
As a footnote, the total raised for our Charity of the Year (Save the Children) stands at £867.77...amazing and well done!